Tsutsujigaoka Country Club
Tsutsujigaoka Country Club is located in Ashikaga area in Tochigi prefecture, about 1 hour north of Tokyo by car or train. Ashikaga is the birthplace of the once mighty Ashikaga clan that ruled Japan for over two centuries during the Morumachi period of Japanese history. Set in some of the most scenic mountains in Japan, certainly an area for nature lovers containing the famous Ashikaga Flower Park.
The course is an award-winning 18-hole hole course designed by the late Katsumi Takizawa, each hole has been laid out in harmony with the local topography, accentuated by the breathtaking hills and valleys of the national park bordering the property beyond -the changing season's vivid greens in spring and summer and golden browns and reds in fall and winter offering a stunning backdrop.
A 6,670-yard par-72, each hole feels unique, often winding around wooded hills or set in sweeping valleys, and offering a varied test requiring skill and precision over length, the aim of the design is to challenge a golfer to use their full imagination and shot-making ability. Modern touches such as large single greens partnered with water features and strategic bunkering offer an enjoyable and memorable golfing experience.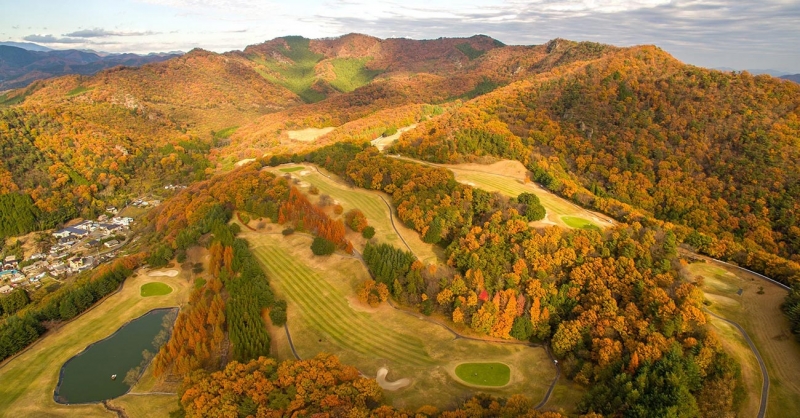 Play Style
The course features remote control carts - but it is possible to walk the course, amazingly made possible by a number of gondolas and travelators helping to get to the elevated tees, and from one hole to the next- which ads to the uniqueness and enjoyability.
Carts are required, but caddy is optional.
Play through: Possible during weekday rounds, not on weekends. An extra nine is also possible if daylight permits and recommended is the early bird tee times in summer, which see 18 holes played before 9am! - a rarity in Japan.
Dress Code: The club asks that visitors respect the dress code of the club. While in the clubhouse a collared shirt, sports coat and trousers (not jeans) standard for Japanese golf courses are preferred. while on the course, golf wear with collared shirts is the norm, worn with with spiked or soft spiked shoes. During the hot summer months, shorts are acceptable with collared shirts.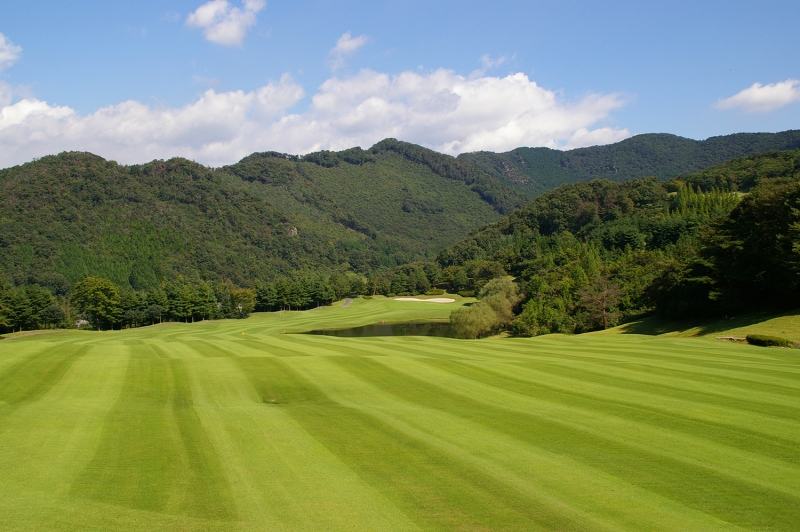 Clubhouse
Our award-winning clubhouse features a spacious main lobby with vaulted ceilings. Visitor as well as members can enjoy our facilities such as locker rooms, hot spa bath, relaxation center and lounge and private competition rooms. Our proshop has all of the essentials you will need for the day as well as drinks and souvenirs.
Our restaurant Azalea, recent winner of the 'Best food at a Japanese golf course' by readers of the popular site Rakuten GORA offers breakfast, lunch and after-golf service.
The restaurant overlooks an impressive waterfall, cascading into a Japanese garden pond containing multi-colored carp. Popular dishes include hand-made soba noodles, available with set dishes such as pork cutlet, tempura and other Japanese dishes. We also feature seasonal favorites such as beef curry and hot soup noodles.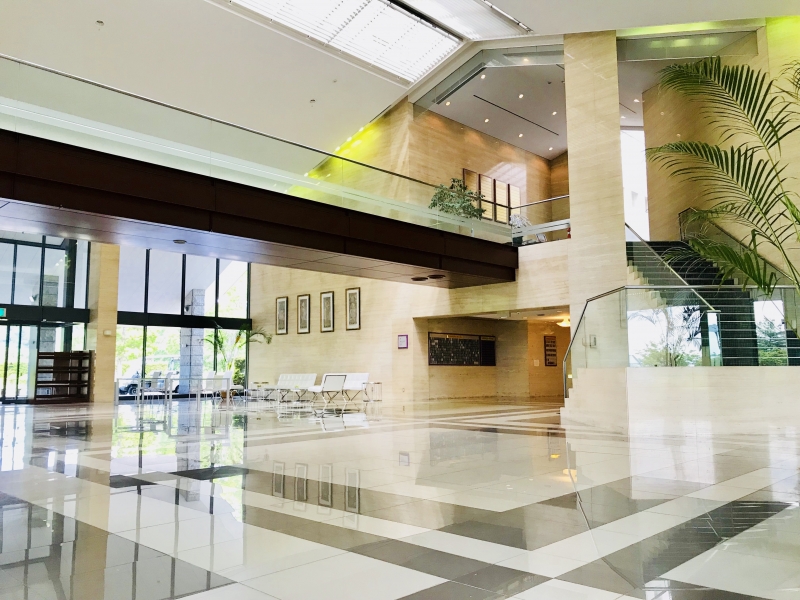 Service for foreign visitors
If you cannot speak Japanese or are unsure of customs or how to get here, please do not worry! We will be happy to help you prepare for the day, and can take care of your booking and transportation needs. We also have men's and ladies rental clubs for both Left-handed and right-handed golfers, as well as rental golf shoes.
We also offer support for larger groups, such as bus rental and total event planning.
If you would like booking assistance in English, please drop us an email to info [at] air-golf [dot] com and we will get back to you as soon as possible!